We present B(AR)CELONA, the new route app with augmented reality
The Others y Barcelona centre de Disseny have developed B(AR)CELONA, the new route app mainly for tourists visiting the city but also at all those people interested in creativity and culture in Barcelona.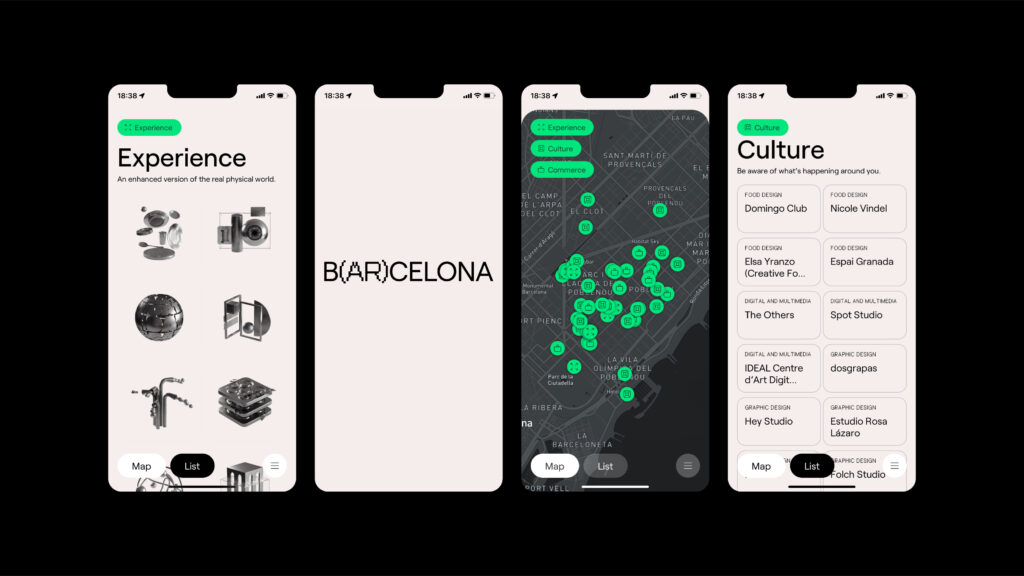 The thematic routes are related to design, architecture, culture or gastronomy, highlighting significant locations and points of relevance as well as the creative talent that works in Barcelona, through an augmented reality experience.
Through a mobile application, an immersive experience is proposed that uses technology associated with geolocation, geocaching and augmented reality, offering the user content, information and interactive narratives that will make them experience the city of Barcelona and its multiple creative, cultural and social stories in an innovative and disruptive way.
The app has been launched on the market with a first route to discover the Poblenou neighborhood, the district of creativity and innovation in the city with the epicenter in the Disseny Hub Barcelona, headquarters of the BcD.
This first route, which has had the support of the Barcelona City Council through its program 'We promote what you do', includes eight main experiences: in the Barcelona Design Museum, in the FAB Lab Barcelona, at the BAU School, in the Antoni Coderch Square (in front of Disseny Hub Barcelona), in the Poblenou's 'Superilla', in the Diagonal Mar Park, in the Library of the University Pompeu Fabra and on Pujades street.
Apart from these eight experiences, the route through Poblenou includes 27 cultural and creative spaces such as IDEAL, Mercat dels Encants, MediaTIC, Estudio Antoni Arola, Folch Studio, Hey Studio or The Others itself, and 15 shops, unique spaces or restaurants such as Unusual, the Sopa restaurant, Sala Becket or Razzmatazz.
The objective is to make the project extensible to the rest of the city's districts, as well as to offer personalized routes for companies or entities and for both public and private citizen events.
The app can be downloaded for free for Android (most current software) and iOS. The texts are in English, since its main target audience is the international visitor.